FiOS.
gps tracking and fleet management software
Powerful, flexible, and low-cost system to manage all types of vehicles and stationary objects.
Previous
Next
GPS tracking and fleet management opportunities
---
essential vehicle GPS tracking
Stop paying for the modules you don't use. KLOUDIP offers the essential features for vehicle tracking at a lower cost.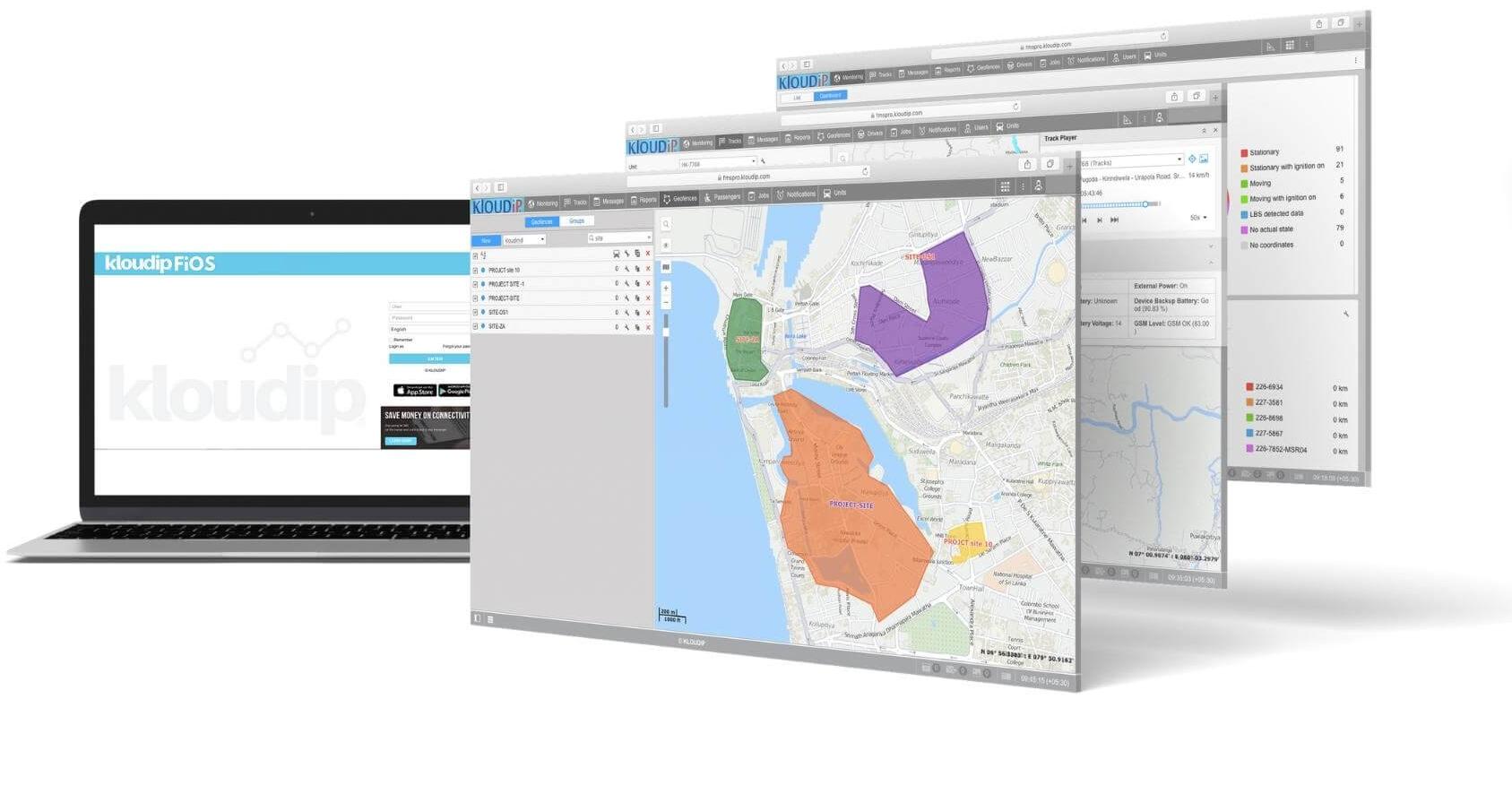 oNLINE GPS tracking
Instantly locate and trace vehicles, people, and trailers on the map.
route optimization
Minimize mileage, delivery time, & fuel consumption with the shortest routes.
vehicle tracks
Replay transport movements on the map for up to 400 days.
Geofences
Mark areas on the map and control anyone entering or leaving them.
notifications
React to events happening with your vehicles in seconds.
fleet Reports
Get fleet analytics to optimize vehicle performance and use.
Vehicle tracking mobile app
Manage large fleets on your smartphone: detect vehicle location, track transport online, study fleet analytics, monitor fuel consumption, and manage transport by commands.

Previous
Next
advanced fleet management
We'll help you manage every process and parameter in your fleet remotely to achieve massive savings.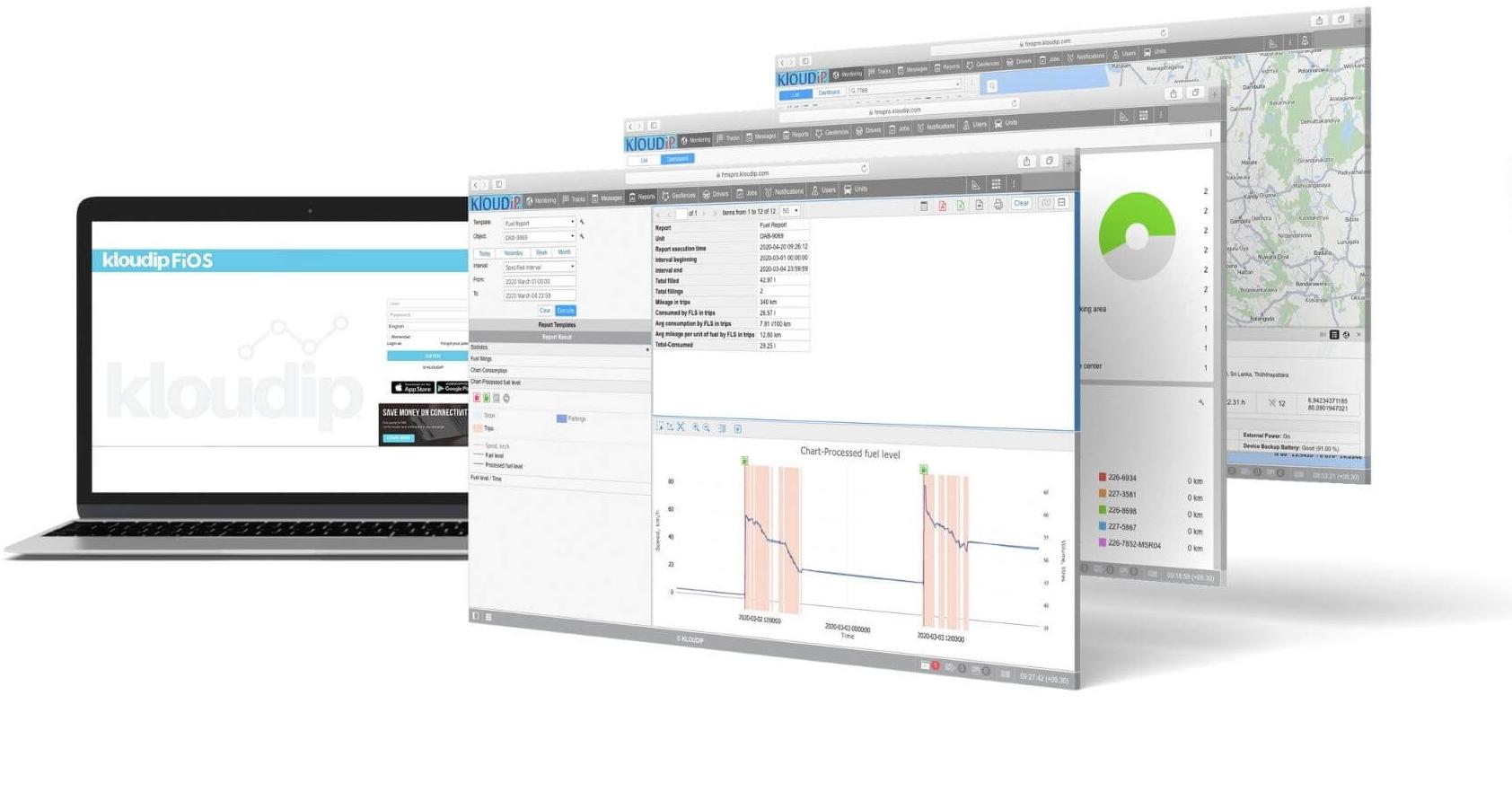 Fuel consumption
Reduce fuel consumption, detect thefts, and ensure fuel-efficient driving.

driving style
Detect traffic violations: speedings, accelerations, brakings, sharp turns, etc.
Video
Watch transport and drivers through cameras: CCTV, MDVR, ADAS.

temperature
Monitor storage and transportation conditions to keep goods unspoiled.
machine hours
Control work hours and efficiency of heavy equipment & machinery.
RFID/NFC solutions
Identify drivers, passengers, and control access to machinery.
value-addeD fleet management solutions
Why manage fleets with FiOS system?
---
Use any GPS tracker
FiOS instantly works with the most popular GPS devices and sensors on the market. Select the best suited for you.

---
Don't pay for a server
FiOS is a cloud system, so server administration & fees are on us. You just need a laptop or smartphone to use it.
---
merge IoT and business
We can integrate FiOS with your in-house software: CRM, ERP, accounting, or other systems where fleet data will be of use.
---
enjoy 99.7% stability
The GPS system is never down. Your vehicles stay in sight for 99.7% of time monthly.

---
FiOS Fleet Management system explained
Discover the core FiOS modules and features with KLOUDIP's Chief Technical Officer.
Fleet Management Step-by-Step
Analyze
We interact with every stakeholder in your company to understand how FiOS can enhance your business.

connect
We carefully select GPS devices and software to connect your vehicles in the most cost-efficient way.

support
We train your employees to use the new tools and help you resolve every issue, both technical or commercial.
ROI
We watch how your business works and come up with advice on how to return your investments faster.